PDFeBurst 2.1 user manual

(everything you need to know to get started)

How to add simple tags to any document
Fast Track Getting Started (assuming you will use Outlook or Outlook Express)
1) Using your Internet Explorer set your default mail client (tools>internet options>programs), to Outlook ?or Outlook Express.
*New* - If you are not using Outlook or Outlook Express see user manual for SMTP setup.
2) Make sure you can now send and receive e-mail using your default mail client if you are using Outlook or Outlook Express.
3) If you have the full version of Adobe Acrobat ?installed you should be able to create a PDF in almost any application. Insure you can create a PDF file. If you can't create a PDF file then you need to purchase Acrobat ?7.0 or higher.
4) Close all applications (just for installation and testing).
5) Open your default mail client and minimize it.
6) Download and install PDFeBurst. Doing installation, PDFeBurst will open Acrobat for you automatically.
7) Complete the registration process.
8) When PDFeBurst's main form has loaded, open c:\PDFeBURST\sample.pdf using PDFeBurst.
9) Put something in the email subject area. Example, "processing test?
10) Press the "Process PDF" button. If you get an e-mail error message while processing to e-mail, read the below information starting at ?/span>Use Outlook - A program is trying to access your e-mail.....?
11) Print c:\PDFeBURST\sample.pdf and observe how you can use the tag eburst: + an e-mail address in your current business process.
12) If PDFeBurst has been installed correctly please take a moment to review the help file. You can get to PDFeBurst's help file under help>help about using PDFeBurst.
13) If you follow the above directions you will have a good understanding of how you can use PDFeBurst in your unique business process.
Many common questions and problems can be answered by reading and reviewing the below information.
Should you have any problems or concerns feel free to e-mail us @ support@pdfeburst.com. We answer all e-mails in the order received. We normally answer all e-mails within 12 hours.
To help us better serve you, please provide the below information with your e-mail when requesting support.
We will not share your information with anyone. Your privacy is very important to us.
Most Common Problems
Disclaimer: The links, software and information provided by PDFeBurst is provided "as is" without warranty of any kind. PDFeBurst disclaims all warranties, either express or implied, including the warranties of merchantability and fitness for a particular purpose. In no event shall PDFeBurst or its resellers be liable for any damages whatsoever including direct, indirect, incidental, consequential, loss of business profits or special damages, even if PDFeBurst or its resellers have been advised of the possibility of such damages. Therefore, make the below changes at your own risk. It is highly recommended that you should check with your network administrator before making any of the below changes.
| | |
| --- | --- |
| | Use Outlook - A program is trying to access your e-mail..... |
<![if !vml]>
<![endif]>
You many want to consider this free utility by Content Magic:
http://www.contextmagic.com/express-clickyes/
Many of our existing customers have found this to be a great utility. This will work with or without an exchange server.
If you are using an exchange server you may want to share the following link with your network administrator:
( http://support.microsoft.com/default.aspx?scid=kb;EN-US;290498 ).
f you have the rights then, you can make settings at the exchange server level without installing the about utility.
| | |
| --- | --- |
| | Use Outlook Express- A program is trying to access your e-mail..... |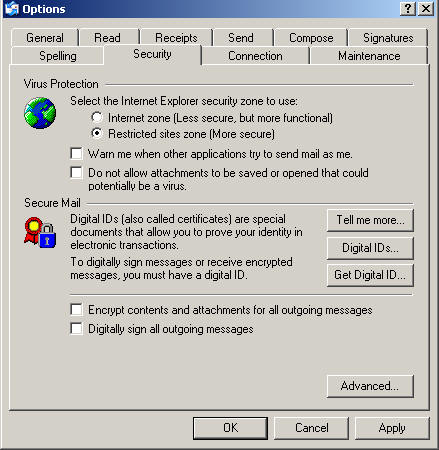 | | |
| --- | --- |
| | How do I set my default mail client? |